I noticed that the majority of my initial subscribers are not so much college sports fans as they are repeat Sarah Kelly supporters. Your enthusiasm and encouraging words mean the world to me, so thank you. But now I'm gonna talk about college sports.
As I mentioned in my ill-fated Express column, my greatest joy in fall is #Pac12AfterDark, followed by a Hawaii nightcap. But in the spring, I have a different passion.
DAYTIME HOOPS!!
Nothing beats those tournament afternoons: sun shining, windows open, maybe a nice 3 p.m. beer. It feels like you're on spring break.
When I was a sports copy editor — my first job out of college — I used to stream any basketball game I could find just for the soothing sound of sneakers on a gym floor. The best thing about my insane schedule (Thursday through Monday, 4 p.m. to midnight) was leaving work to stay up all night for the Tip-Off Marathon (RIP) at the beginning of the season. I inevitably slept through a lot of the super late games, but I'm telling you, those afternoon games were perfect.
The big conferences have already finished their women's tournaments but the men are just starting. Yes, most of the must-watch games are in prime time. But for my fellow fans of live sports during business hours, here are the other afternoon games I'm keeping an eye on:
Tuesday
Saint Peter's women (9-20, 6-14 MAAC) vs. Niagara (9-20, 7-13), 9:30 a.m., ESPN3: These teams are not, you know, good in the traditional sense. But it's 9:30 in the morning, so you get what you get. Do you like basketball or not?
South Dakota State women (23-9, 13-3 Summit) vs. South Dakota (29-2, 16-0), 2 p.m., ESPNU: The Coyotes are ranked No. 17 in the nation and haven't lost a conference game all year. The Jackrabbits have a pretty cool mascot and an early-season win over No. 21 USF. Use this to inform your bracket selections.
Wednesday
Miami men (15-15, 7-13 ACC) vs. Clemson (15-15, 9-11), noon, ESPN: The real meat of the daytime hoop schedule starts here. Neither of these teams is very good, but Clemson beat No. 4 Florida State less than two weeks ago and Miami has taken teams to overtime four times this season, including a 3OT win over Virginia Tech. This game has some chaos potential.
Thursday
Michigan men (19-12, 10-10 Big 10) vs. Rutgers (20-11, 11-9), noon, BTN: Rutgers is kinda good. How good? That's what I'm trying to figure out. The Scarlet Knights are headed to their first NCAA Tournament since 1991 after an overtime win at Purdue to finish the regular season. Given how little Rutgers basketball most of us have watched this season/ever, it's worth checking out for the sake of your bracket.

Texas Tech men (18-13, 9-9 Big 12) vs. Texas (19-12, 9-9), 12:30 p.m, ESPN2: My close personal friend Shaka Smart (pictured above in New Orleans during the 2012 Final Four) is trying to save his job. The Longhorns finished the regular season on a 5-1 run that included wins over two ranked teams and an absolute shellacking at the hands of Oklahoma State. Tech has been hanging around the bottom of the national rankings all season and last week hung around against No. 1 Kansas before losing by just four points.
Oklahoma State or Iowa State men vs. Kansas (28-3, 17-1 Big 12), 2:30 p.m., ESPN: The best team in the nation will either blow the doors off a middling ag school team or slog through three quarters before finally turning it on and winning by, like, 12 points. Udoka Azubuike is pretty close to unstoppable.
Butler men (22-9, 10-8 Big East) vs. Providence (19-12, 12-6), 2:30 p.m., FS1: The Friars will probably make the tournament this year, which means you need to get used to looking at that terrifying mascot. Keep an eye out for Butler's new mascot, a bulldog puppy named Blue IV.
Speaking of bulldogs, here's a photo of Lavender to cleanse your palate.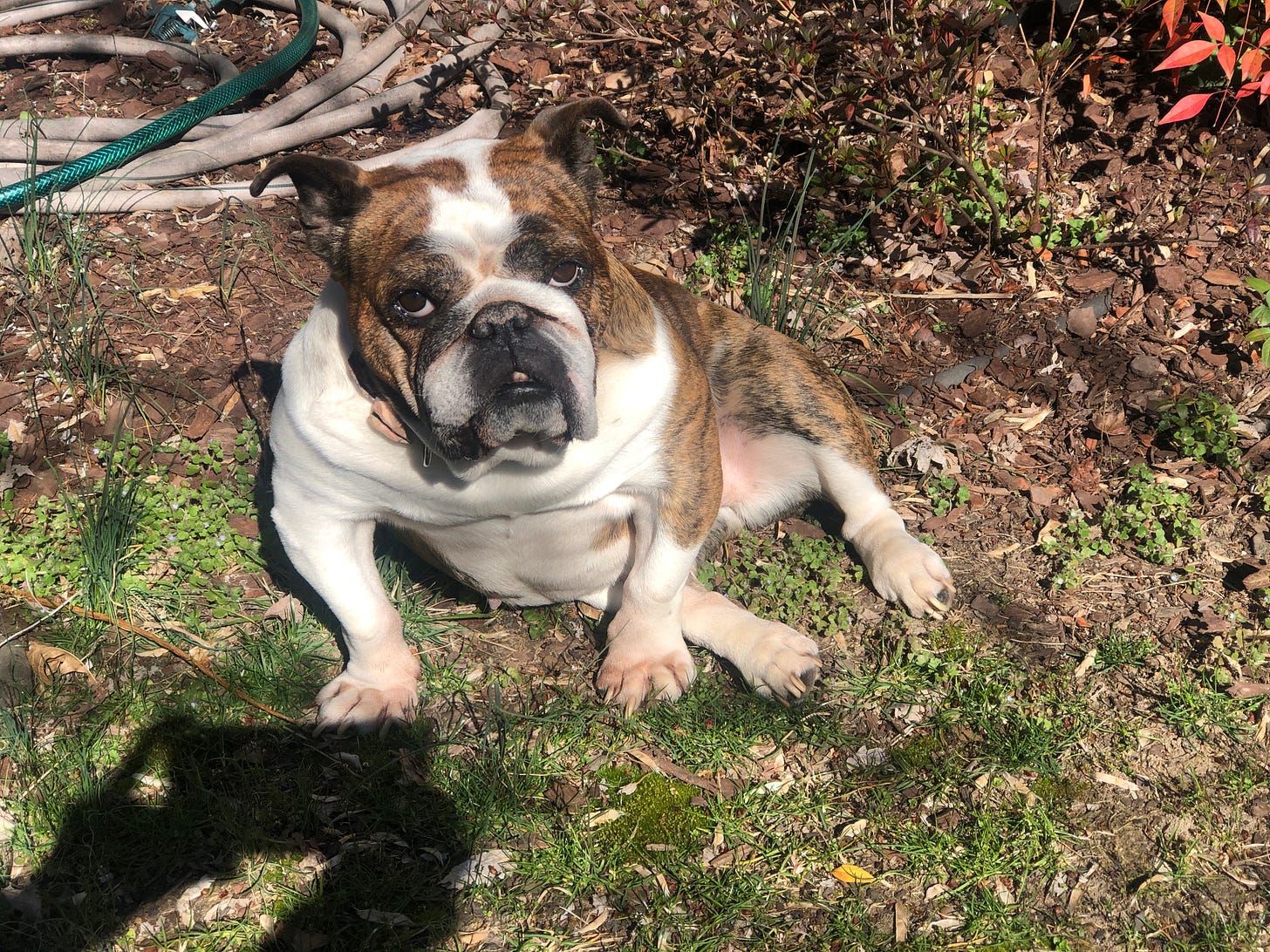 Now, some links
I'm still trying to figure out the right format for this newsletter, but I know I want to highlight female writers and editors in sports. So here's some of the good stuff I saw this week. Huge thanks to everyone who submitted links!
On Larry Nassar's victims and Olympic officials' failures, Sally Jenkins does. Not. Play.
I just love the lede in Katie Heindl's profile of Mavericks assistant coach Jenny Boucek
There's no shortage of coronavirus coverage this week, but my favorite has been Cynthia Dewi Oka's piece on anti-Asian racism and the resilience of MMA fighter Zhang Weili.